Contents
With a diverse selection of exhilarating roller coasters, interactive simulators, family-friendly rides, and immersive experiences, Ferrari World offers an unforgettable journey through the world of Ferrari, where speed, innovation, and the thrill of racing come together in a truly captivating and unique theme park.
So, brace yourself for an unforgettable experience at Ferrari world as you step into the world of high-speed roller coasters and interactive exhibits showcasing Ferrari's rich history.
Top Rides at Ferrari World
Formula Rossa
Prepare for an adrenaline-fueled adventure on the legendary Formula Rossa, where you'll experience the sheer power and speed of a Formula One car as you blast off from the starting line, hurtling through jaw-dropping twists and turns at an incredible 240 km/h.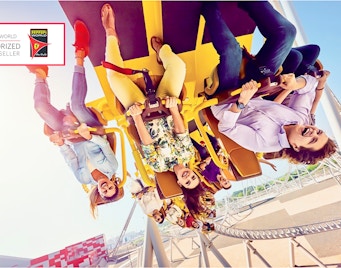 Flying Aces
Take to the skies on the wings of a daring aviator as you board the Flying Aces roller coaster. Feel the rush of adrenaline as you soar through the air, performing daring maneuvers, heart-pounding inversions, and gravity-defying loops that will leave you feeling like you're part of an epic aerial dogfight.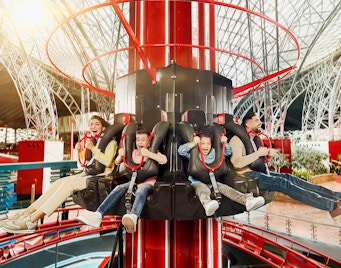 Turbo Track
Prepare for a vertical launch like no other on Turbo Track. Feel the anticipation build as you ascend high above the ground, only to plunge back down at lightning speed, your heart racing as you twist and turn through a thrilling track filled with surprises.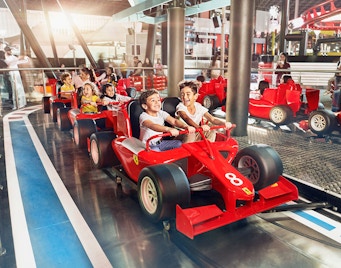 Fiorano GT Challenge
Rev up your engines and go head-to-head with your friends or family on the Fiorano GT Challenge. Climb aboard a sleek Ferrari F430 Spider replica and engage in a fierce race, battling it out for victory as you race through the twists and turns of this thrilling dueling roller coaster.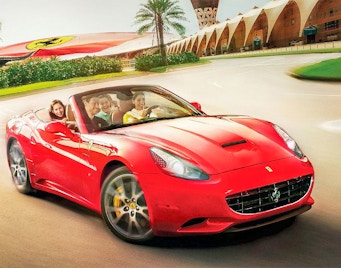 Scuderia Challenge
Step into the world of Formula One racing and put your skills to the test on the Scuderia Challenge. Experience the rush of being a professional driver as you compete against others in high-tech racing simulators, navigating hairpin turns and straights, and striving to achieve the fastest lap time.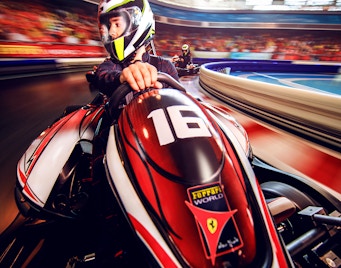 Karting Academy
Channel your inner racing champion at the Karting Academy. Feel the exhilaration as you zip around an outdoor go-karting track, maneuvering through tight corners, overtaking opponents, and embracing the thrill of speed on this exciting and competitive experience.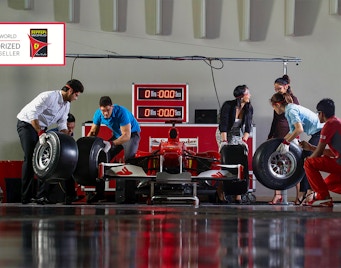 Made in Maranello
Step into the heart of Ferrari's manufacturing process at Made in Maranello. Explore a replica factory and witness the meticulous craftsmanship that goes into creating a Ferrari, from the assembly line to the testing stages. Immerse yourself in the sights, sounds, and sensations of Ferrari's rich heritage and innovative engineering.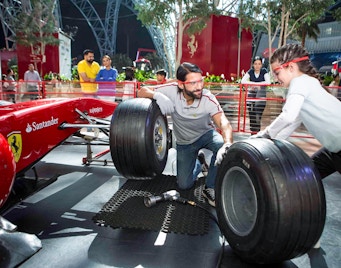 Tyre Twist
Experience the thrill of spinning and twirling on the Tyre Twist ride. Climb aboard giant spinning tires and hold on tight as you whirl around, feeling the rush of excitement and the joy of carefree fun in this whimsical attraction for all ages.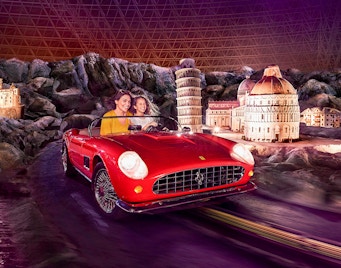 Bell'Italia
Take a leisurely drive through the scenic landscapes of Italy on Bell'Italia. Hop aboard a replica Ferrari car and enjoy a relaxing ride through picturesque Italian villages and iconic landmarks, immersing yourself in the beauty and charm of this captivating country.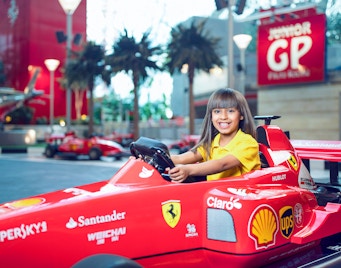 Junior Grand Prix
Let the young ones experience the thrill of being a Formula One driver on the Junior Grand Prix. Watch as they maneuver their own mini Ferrari cars around a specially designed track, competing with their peers and embracing the excitement of racing.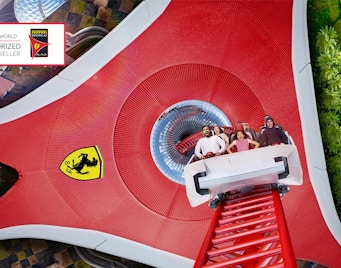 Speedway Race
Feel the excitement of a classic car race on the Speedway Race. Jump into vintage-inspired race cars and zoom around a track, experiencing the thrill of speed and competition as you vie for first place.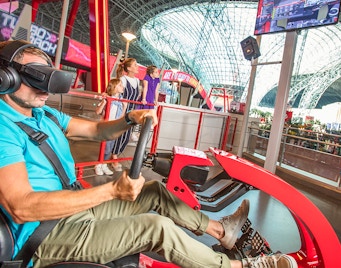 Viaggio in Italia
Embark on a virtual tour of Italy in Viaggio in Italia. Sit back and relax as you glide through breathtaking landscapes, famous landmarks, and cultural hotspots, all while experiencing the rich history and vibrant spirit of Italy.
Book Your Ferrari World Tickets
Frequently Asked Questions About Ferrari World Rides
How many rides are inside Ferrari World?
Ferrari World Abu Dhabi features 24 rides in total.
Are all the Ferrari World rides open?
Yes, all the rides at Ferrari World are typically open for guests to enjoy.
Are rides free at Ferrari World?
No, rides at Ferrari World are not free. Admission tickets are required to access and experience the rides.
Do I need separate tickets to go on the different Ferrari World rides?
No, a single admission ticket grants access to all the rides at Ferrari World.
What are some rides in Ferrari World?
Some popular rides at Ferrari World include Formula Rossa, Flying Aces, Turbo Track, Speedway Race, and Scuderia Challenge, among others.
Are there height restrictions on the rides at Ferrari World?
Yes, there are height restrictions on certain rides to ensure the safety of guests. Specific height requirements are provided for each ride, and children may need to be accompanied by an adult on some attractions.
What are the average wait times in front of the different Ferrari World rides?
Wait times for rides at Ferrari World can vary depending on the day, season, and popularity of the attraction.
How long does it take to go on all the rides inside Ferrari World?
The time required to experience all the rides at Ferrari World can vary depending on factors such as crowd levels and personal preferences. It is recommended to allocate a full day to explore the park and enjoy all the attractions.